Principal Investigator
Michael Fultz
Assistant Professor
Department of Chemistry
West Virginia State University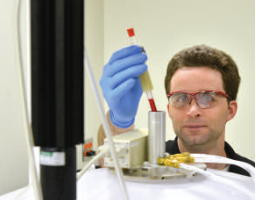 By certain accounts Fultz, an associate professor of chemistry at West Virginia State University (WVSU), personally spearheaded more outreach projects during his short six years at WVSU than many do during an entire career – and it shows. The students who write thank you letters to Fultz clearly find great fun and benefit in the science outreach activities that come to them via their K-12 classrooms from WVSU, but it's Fultz's undergraduate students who, he knows, gain as much benefit from the experiences. Fultz oversees the student chapter of the American Chemical Society (ACS) at WVSU. He and the group, which annually consists of more than 20 students, regularly take science to kids by hosting educational programs for schools across the Kanawha Valley in West Virginia. These include lectures on topics such as green chemistry, career presentations and science-based, hands-on activities.