Research Infrastructure Development
Under the RID program, NASA WV EPSCoR supports a variety of activities related to strengthening the research capabilities of faculty in STEM disciplines in West Virginia by sponsoring research seed grants and travel grants.
Our programs have been effective in building research capability at WV institutions of higher education In the past five years, over 84 publications and presentations have been generated by our researchers, seven new or revised courses have been created, and over $1.7 million has been secured by our researchers after the completion of their Seed Grant for NASA EPSCoR. 
Through the EPSCoR seed grants, researchers provide advanced training and research opportunities for WV students. This will broaden the knowledge of all students in emerging STEM research fields. In 2019, five WV Institutions, inclusive of one of the two Minority Serving Institutions in WV, participated in research activities that were funded by a NASA WV EPSCoR RID grant. The program supported thirteen (13) research faculty members (4 female, 9 male, 15% minority). 
Following are some of the projects developed under the RID program: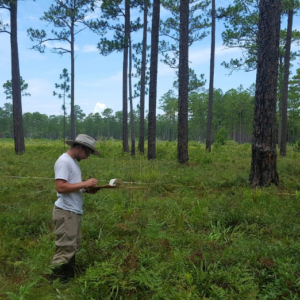 Project Title: Quantifying the vulnerability of longleaf pine woodlands to drought
Principal Investigator:  Kyle Palmquist, Marshall University, Department of Biological Sciences
The goal of this project is to document the impact of drought along soil moisture gradients and across scales in longleaf pine (Pinus palustris) plant communities throughout the southeastern US.
Photo of Moses Shafer (BS, Marshall University), who was the field technician, recording data in one of our plots in South Carolina.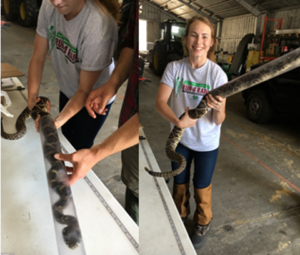 Project Title: Influences on gut microbiome on apex predators.
Principal Investigator: Jennifer J. Mosher, department of biological Sciences, Marshall University.
Marshall University student, Mckenzie Granata, demonstrates safe handling techniques for a captured-wild, adult Eastern Diamondback Rattlesnake. The research project "Influences on gut microbiome in apex predators" has a direct link to the NASA Human Exploration & Operations Mission Directorate.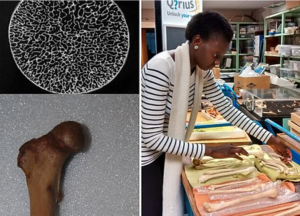 Project Title: An investigation of bone density and strength in non-human mammals
Principal Investigator: Habiba Chirchir, PhD., Marshall University
The goal of this project is to understand the effects of varying levels of physical activity on bone density and strength, and the biomechanical trade-offs that exist to minimize energetic demands, such as a reduction density through the study of non-human mammals.